I decided to have a go at making some chocolate chip cupcakes yesterday. I used a simple recipe and just enjoyed the whole process of making the batter, sifting the flour, whisking the eggs and adding the tiniest bit of vanilla essence to the mix. I love cooking but I used to live on a boat with a very very tiny kitchen and never managed to get the time and space to have a go at making things. Now I have moved into a flat I have lots of things I want to try!
;
The recipie to make these was as follows:
85g of butter
100g caster sugar
2 eggs (whisked lightly)
100g choc chips
225g self raising flour
25g cocoa powder
Turn the oven to 200 degrees (Gas Mark 6) and prep 18 cupcake cases or muffin tin if you prefer by greasing with butter.
Mix the butter and sugar with a wooden spoon until it goes nice and fluffy and looks a really light yellow. Then add the whisked eggs -be REALLY CAREFUL only to add them a little bit at a time because otherwise they can seperate and the mixture will go funny. After this add in all of the chocolate chips and gently mix them in. Then you can get a bit creative and add things for a touch of flavour. I chose vanilla essence and maple syrup.
In a different bowl carefully sift the flour and cocoa powder and then add this into the mix really gently so as to keep as much air in your mixture as possible. After this you can spoon your mix into the cupcake cases and smooth over the tops with the back of your spoon.
You want to bake them for about 20-25 mins until they feel a bit springy and then let them cool. After they are nice and cool you can get creative and decorate them in any way you like!
I have made a collection of cupcake decorating inspiration ideas below:
Mint Icing!
http://www.createdby-diane.com/2011/03/mint-chocolate-chip-cupcakes-and-frosting.html
Rose frosting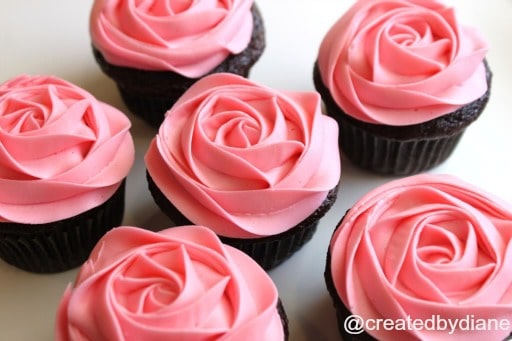 http://www.loveandflour.com/marchocolate-mint-chocolate-chip-cupcakes/
How do you like to decorate your cupcakes?
Love Steph x
P.S. click below for links and comment below to leave me yours!
bloglovin
*
twitter
*
instagram